Ultrasonic lamination Wipe
Views: 0 Author: Site Editor Publish Time: 2020-10-23 Origin: Site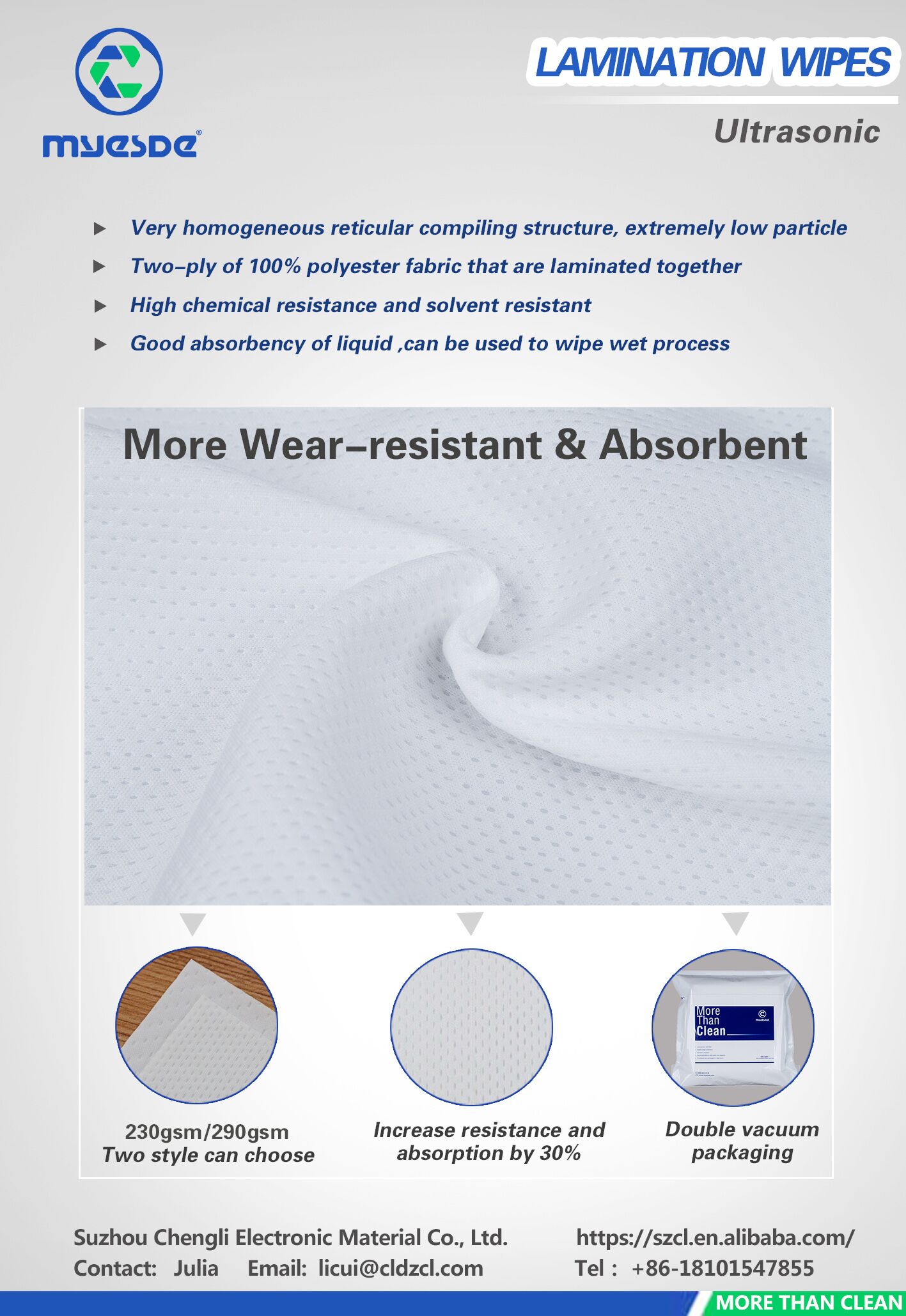 TECHNICAL DATA SHEET.
Ultrasonic lamination Wipe
Description The ultrasonic lamination wipe Ⅱ is made using two layers of Dry Knitted Polyester heavy Weight Wipe which have been laminated together to form a stronger, more adsorbent wipe. It is abrasion and chemical resistant as well as extremely low in particles and fibers. The wipe has more than twice the adsorbent capacity of the individual layers additional fluid is trapped in quilted pockets between the two layers.
Applications
•Wiping and cleaning surfaces, equipment and parts.
•Applying and removing lubricants, adhesives, residues and other solutions including disinfectants.
•Cleaning with solvents such as isopropyl alcohol (IPA), ethanol, acetone, and degreasers.
Features and Benefits
• Cleanroom laundered and packaged providing ultra low levels of ions and non volatile residues.
• Designed for use on abrasive surfaces. This not easily snag or abrade releasing articles and fibers into the process or environment.
• Excellent chemical resistance for compatibility with a variety of solutions.
• Individually lot coded for ease of trace-ability and quality control.
• Good absorption with water and solvents. Hold more dirt and residues than average wipe. Remove residues from the surface more effectively.
Technical Data
Cleanroom Environment •ISO Class 3 – 8 •Class 1 – 100,000
Shelf Life •Non-Sterile (Dry) – 3 years from date o
• Non-Sterile (Pre-Wetted) manufacture
•Sterile – 2 years from the date of manufacture