Non woven Fabrics in the Medical
Views: 4 Author: Site Editor Publish Time: 2020-11-05 Origin: Site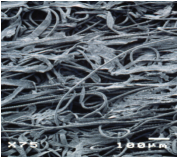 With the non-woven technology mature, non-woven fabrics are used in all walks of life, not only daily life home, and even the medical and health industry has made a recognition of non-woven fabrics. Nonwovens are now available as materials for medical items, as well as packaging of medical items in major hospitals.
Medical non-woven fabrics are different from ordinary non-woven fabrics and composite non-woven fabrics. Ordinary non-woven fabrics do not have antibacterial properties, composite non-woven waterproofing effect, poor ventilation, generally used for surgical clothing and surgical bed sheets, medical non-woven fabrics are spunbond, meltblown, spunbond process into a sterile, hydrophobic, breathable, no dough characteristics, for the final packaging of sterile items, one-time use, no cleaning.
Suzhou Myesde Ultra Clean Technology Co., Ltd. is an integrated high-tech enterprise specialized in research and development, production, sales and service of cleanroom products, located in the ecological chain capital of global textile industry - Suzhou, China. Myesde develops and produces high-end cleanroom wipes, pre-wet cleanroom wipes, sterile cleanroom wipes, clean papers, anti-static clothing, anti-static gloves , nitrile gloves, vinyl gloves, finger sets etc., which are widely used in bio-pharmaceutical, medical& healthcare, aerospace, semi-conductor, precision instruments, IC, photovoltaic, automotive manufacturing etc. and other related industries and fields.
If you have any interested in or want to get more details,
pls just contact me anytime!
Ms.julia
Tel/whatsapp/wechat: +86 18101547855
Email: licui@cldzcl.com