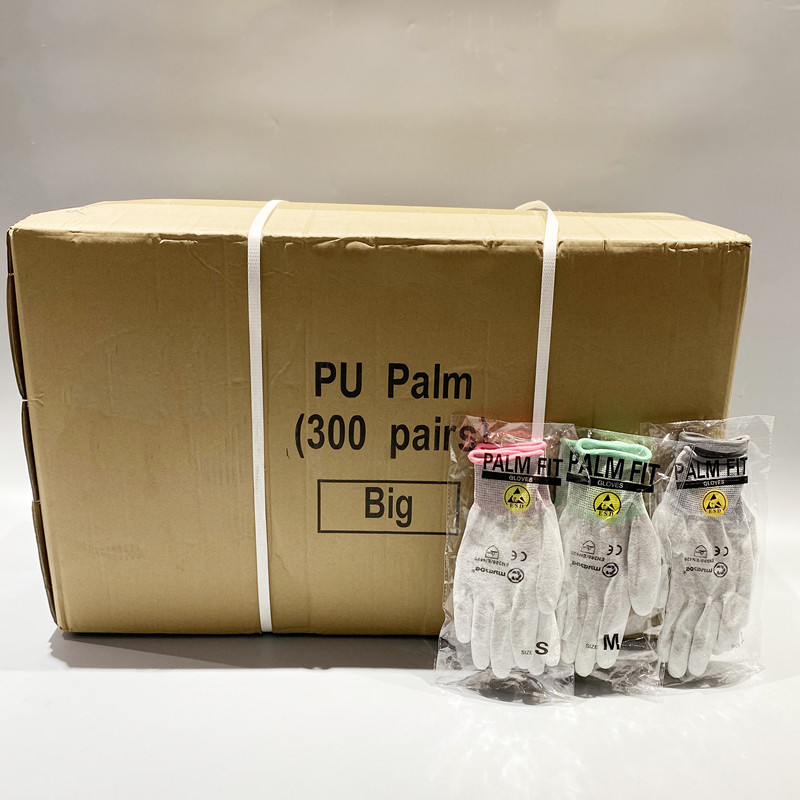 Work gloves have come a long way since the start of the century. New technology has changed the way that we protect our hands, and as technology has progressed, there have been significant changes in the materials that we use to protect our hands too. Work gloves generally consist of a flexible liner with either a palm, 3/4 or full glove coating that protects the hands against things like water, oil, abrasion, cuts, and heat.
In this article we're only concerned with the glove coating. There are plenty of glove coatings available, however usually you will find that you have to make a choice between latex, nitrile and polyurethane. Each coat has their pros and cons, so we've created this handy guide which will hopefully answer a few questions that you have when it comes to choosing your new work glove.
NITRILE VS POLYURETHANE VS LATEX
Not too long ago, the majority of gloves would have used a latex palm. Now though things are a little different, and glove manufacturers have started to look at how different materials can provide different qualities depending on your industry. Manufacturers soon came to realise that nitrile worked fantastically well around oil, latex worked well in the dry and that polyurethane came with impressive flexibility.
Nowadays most gloves are coated in polyurethane, nitrile or latex, so it's important to know which is which and why each coating is used. Below we analyse each coating, comparing them to one another before explaining the benefits of each.
HEAD TO HEAD
| | | | |
| --- | --- | --- | --- |
| Quality | Latex Coated | Nitrile Coated | Polyurethane Coated |
| Grip | ★★★ | ★★★ | ★★★ |
| Cost | ★★★ | ★★☆ | ★★☆ |
| Flexibility | ★★☆ | ★★☆ | ★★★ |
| Chemical Resistance | ★☆☆ | ★★☆ | ★★★ |
| Water Resistance | ★★☆ | ★★★ | ★★★ |
| Dry Handling | ★★★ | ★★☆ | ★★☆ |
| Durability | ★★★ | ★★★ | ★★☆ |
| Oil Resistance | ★☆☆ | ★★★ | ★★★ |
Please note that this is just a guideline for your typical coated work glove. Not every single nitrile-coated glove is completely oil proof, and not every single latex glove cannot be used around water.
ANALYSIS
Latex Coated
Latex-coated gloves are reliable and cost-efficient PPE. They are fantastic in dry environments, offer superb grip (especially in dry conditions), and they are incredibly durable, with the thicker coating protecting well against abrasion and other risks. The grippy design is ideal for handling things like glass and sharp metals, barbed wire, steel and other similar materials.
Alternatively, if you are after working in the wet, with oil or with chemicals, then we would generally recommend that you stay away from a latex coating. It doesn't behave too well around water, and the thicker design can compromise your dexterity just a little. Overall, a latex coating is fantastic for dry tasks when a high level of grip is demanded.
Key Industries: Glass handling, assembly, metal handling, scaffolding, roofing.
Nitrile Coated
If you're working with oil, with water or in hot and sticky conditions, think nitrile. Foam nitrile (the costlier version of flat nitrile) offers fantastic resistance to oil and water, with its sticky design soaking up slippery substances even when working with flat surfaces. The material provides superb grip, making it a perfect choice for things like mechanics and engineering tasks.
On the other hand, nitrile is a little more expensive than latex, unless you go for flat nitrile which lacks the grip of foam nitrile. It doesn't perform as well as latex in dry conditions, but the thicker design does also mean that nitrile coated gloves tend to be pretty durable. Nitrile gloves are fantastic gloves for oily, dirty and high abrasion risk industries.
Key Industries: Oil and gas, rigging, engineering, wet handling.
Our last stop is polyurethane-coated gloves. We think polyurethane is a little underrated, it generally offers the same oil, water and chemical resistance as nitrile, however comes with far more dexterity and flexibility when you need it most. It isn't particularly more expensive either, partly because polyurethane is naturally grippy, and doesn't require any special manufacturing process to make it more sticky.
It performs well in the wet, well in oil and well with chemicals. It is slightly less grippy in the dry than latex, and the lighter more flexible material doesn't last as long as a latex or nitrile glove. Aside from that, PU coats are fantastic, all-round coats, ideal for tasks such as mechanics, construction, warehousing and more.
Key Industries: Timber handling, mechanics, construction, warehousing.
THESE COATINGS IN PRACTICE
We've pitted together three of our best selling Polyco cut resistance gloves, each one coated in a different material just to see how they compare to one another. Through this practical guide, we hope that you'll be able to see which gloves perform best and which coating might be best for you.
Suzhou Myesde Ultra Clean Technology Co., Ltd. is an integrated high-tech enterprise specialized in research and development, production, sales and service of cleanroom products, located in the ecological chain capital of global textile industry - Suzhou, China. Myesde develops and produces high-end cleanroom wipes, pre-wet cleanroom wipes, sterile cleanroom wipes, clean papers, anti-static clothing, anti-static gloves , nitrile gloves, vinyl gloves, finger sets etc., which are widely used in bio-pharmaceutical, medical& healthcare, aerospace, semi-conductor, precision instruments, IC, photovoltaic, automotive manufacturing etc. and other related industries and fields.
If you have any interested in or want to get more details,
pls just contact me anytime!
Ms.julia
Tel/whatsapp/wechat: +86 18101547855
Email: licui@cldzcl.com