Is pp non woven toxic?
Views: 1 Author: Site Editor Publish Time: 2020-10-29 Origin: Site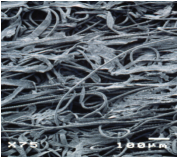 Non woven fabrics are like close friends in people's lives. To solve the needs of production, life and work, etc. Moreover, it is solved at a lower cost, such as garment lining, clock and other packaging cloth, glasses cloth, towel, etc.Not only that, it is widely used in medical treatment, agriculture, such as surgical masks, disposable surgical clothing, agricultural greenhouse, fruit trees, etc. So a lot of people will ask, is the pp non woven fabric used widely toxic?
The answer to the question "Does pp non woven fabrics be toxic?" is actually very simple and resolute. PP non woven fabrics are non-toxic, and none of them are toxic. The so-called pp non woven fabric, which is made of pp material - polypropylene made of non woven fabrics. Polypropylene is the most widely used non woven fabric material and it is low cost. It can be used to make recycled polypropylene non woven fabrics. Is pp non-woven toxic? It is non-toxic, because it is made of polypropylene, and it is made of non woven technology. It is more environmentally friendly and healthy, with light permeability, heat preservation, moisture, mildew, durable, easy to degrade, widely loved by the community.
Due to the special and simple non woven production process, the answer to the question "is pp non-woven toxic?" is firmly denied: it is non-toxic and harmless! Some food-grade pp non woven fabrics or food-grade non woven fabrics are no harm in food. This is a further high requirement for the quality of non woven fabrics in the country! Is pp non-woven toxic? This problem has already been known to many people, so use it with confidence. For example, in agriculture, many growers use non-woven products as covering films for greenhouses, fruit trees, etc. To prevent freezing damage, pest control, and shading, etc. It is light and breathable, very good.
If you want to know more about nonwovens, please follow us.