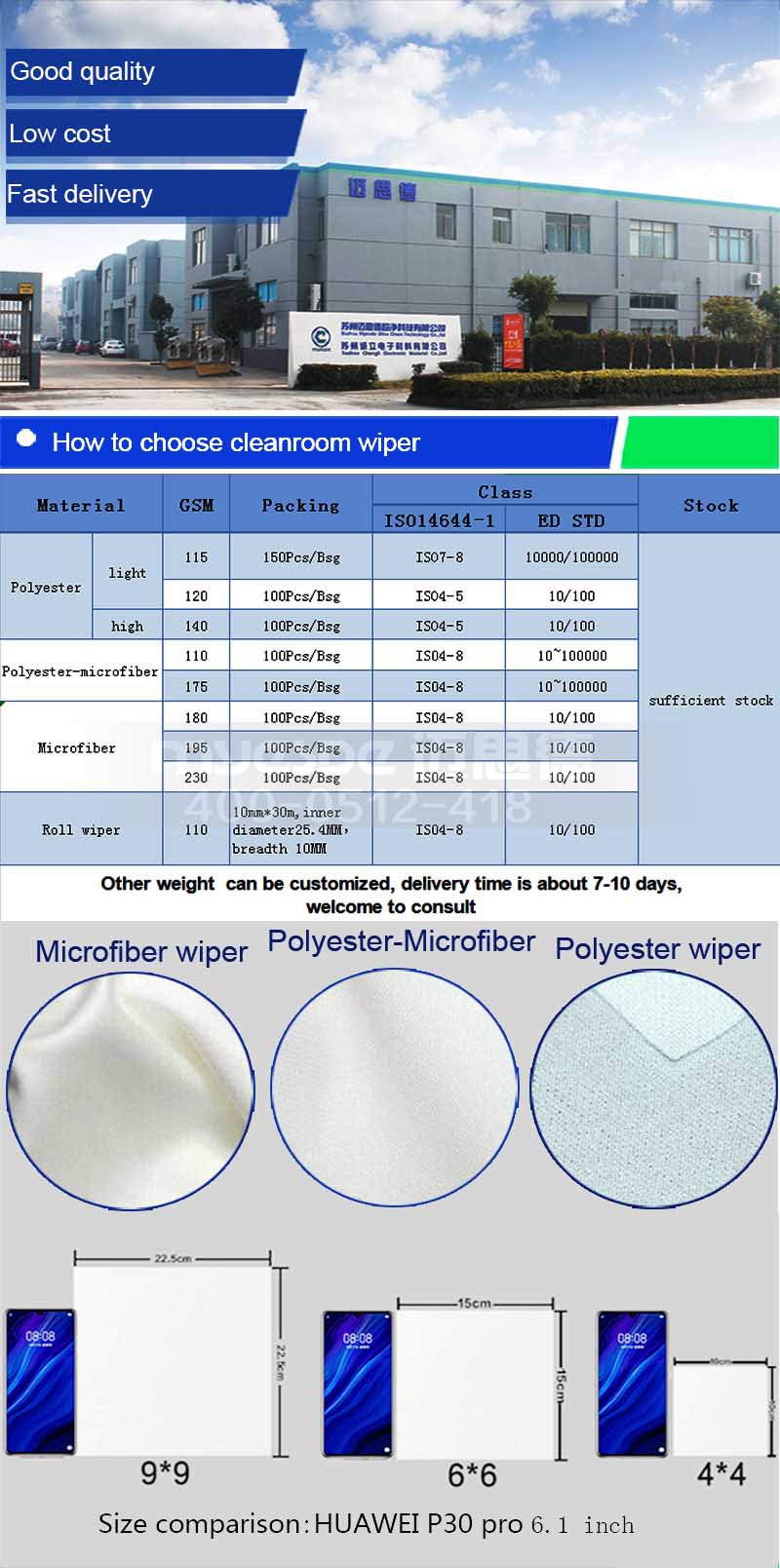 Woven Cleanroom Dry Wipes
Dry knitted or woven polyester cleanroom wipes are the cleanest level of wipes. Most widely used
in a Class 10 (ISO 4) and Class 100 (ISO 5) cleanrooms. The wipes are most often manufactured from 100% polyester. They are available in a variety of edge finishes.

Advantages:
§ Strong, will not tear, non-shedding
§ Clean, low in particles, used in the most critical applications and critical clean rooms
§ Soft, Non-Abrasive
§ Can be Gamma Irradiated for sterility. Low microbiological endotoxin levels
§ Highly Absorbent
Types of Edges finish:
§ Knife Cut Edge
§ Laser Sealed Edge
§ Ultrasonically Sealed Edge
The highest specification wipes include either laser or ultrasonic edge sealing to reduce contamination.
Non-Woven Cleanroom Wipes
Dry non-woven cellulose cleanroom wipes are generally manufactured by two methods:
Melt blown material is extruded and formed into a batting which is than thermally bonded.
Another method has Hydroentangled fibers which has thousands of high pressure pin size jets that shoot water at the batting of blended fibers to form the material. This method uses no binders. Each fiber material has unique qualities making it suitable for different applications as a clean room wipe.
Advantages:
§ Economical
§ High sorbency
§ Strong
§ Low linting
§ Polypropylene/Cellulose – High absorbency, durable, resistant to acids and other chemicals, autoclavable
§ Blue Polypropylene/Cellulose – Visual inspection background, general purpose cleaning
§ Polyester/Lyocell – Cleanest nonwoven, high absorbency, exceptionally soft, works well with IPA and other solvents
§ Bonded Polypropylene/Cellulose – Economical, high absorbency, cellulose core for excellent wicking of solvents
§ Melt blown Bonded Polypropylene – Multi layer, high durability and sorbent, engineered for use with acids, certified for contact with food,
§ Hydroentangled Rayon/Polyester – Highly absorbent with all liquids, durable, soft, nonscratching
§ Spunlaced Polyester – Very clean, absorbent with solvents, soft non-scratching, strong wet or dry
Sterile or Non-Sterile Cleanroom Wipes
Sterile cleanroom wipes have been gamma irradiated to eliminate all living organisms.

Pre-Saturated Cleanroom Wipes
The pre-saturated cleanroom wipes are available in many materials, solutions and packaging styles. The products are available in sterile and non-sterile formats.
Solutions include:
§ Isopropyl Alcohol (IPA)
§ Denatured Ethanol (DE)
§ Sodium Hypochlorite – commonly known as bleach
§ Hydrogen Peroxide
Laboratory Dry and Pre-Saturated Wipes
There are dry wipes and pre-saturated wipes that are more suited to the laboratory than cleanroom, such as Distel disinfectant spray and Distel pre-saturated wipes. Durable and low linting for use outside of the cleanroom, a controlled environment or lab area.
§ Industrial Rayon/Polyester – Hydroentangled blend, silicone free, no binders or other chemicals, soft, strong and durable
§ Industrial Rayon/Polyester
§ Rayon/Cellulose – 100% Biodegradable, tissue for cleaning lenses, extremely soft
§ Rayon – heat resistant, highly absorbent, soft, light weight, chemically compatible with common cleaning and disinfecting solutions
In Summary:
All wiping and cleaning requirement vary from clean room to clean room. It is important to find the clean room wipe which will meet the needs for each process in the clean room.
Call our customer service department or visit our web site www.cldzcl.cn for additional information.
Suzhou Myesde Ultra Clean Technology Co., Ltd. is an integrated high-tech enterprise specialized in research and development, production, sales and service of cleanroom products, located in the ecological chain capital of global textile industry - Suzhou,China. Myesde develops and produces high-end cleanroom wipes, pre-wet cleanroom wipes,sterile cleanroom wipes, clean papers, anti-static clothing, anti-static gloves / finger sets etc., which are widely used in bio-pharmaceutical, medical& healthcare, aerospace,semi-conductor, precision instruments, IC, photovoltaic, automotive manufacturing etc. And other related industries and fields.